School Overview
Research Primary School is located in semi-rural surroundings on the north-eastern outskirts of Melbourne, within the Shire of Nillumbik. The school was established in 1889 during the gold mining days and has a present enrolment of about 200 students. With Nillumbik generally an aging area, student enrolments are likely to remain within the range of 200 – 220.
Eltham is our nearest suburb, with Kangaroo Ground just beyond Research. The school is small enough to create a caring family atmosphere, yet has a sufficiently large student enrolment to enable us to offer a range of learning programs.
Our Vision
Research Primary School excites, engages and empowers our students.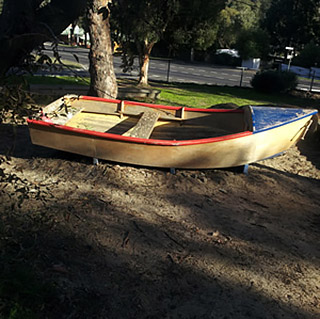 Enrolment
It is compulsory for children to attend school from the age of 6 years. Children who reach the age of five years, on or before April 30, may commence school in February of that year, however it is advisable to discuss with the preschool teacher the 'readiness' of your child to begin school, especially if your child's birthday falls near April 30.
The following procedures must be followed when enrolling your child:
Complete an Enrolment Form (available from the school office) or by selecting the link below
Provide proof of your child's age (birth certificate, passport)
Provide Certificate of Immunisation (The certificate must be the Child's Immunisation History Statement, available from www.humanservices.gov.au/onlineservices or by calling 1800 653 809)
If you wish to find out more about the school or would like to discuss an enrolment, please contact us on 9437 1917
School Council
The composition of the School Council is: eight elected parent representatives, four teacher representatives, the Principal and two co-opted members as required. The School Council meets twice per term.
The committee system of School Council allows for the efficient running of council meetings whilst at the same time ensuring a fully informed planning and decision making process on all aspects of school life. These committees may include: Finance, Buildings and Grounds, Education, Fund Raising as well as occasional committees. Committees may co-opt additional members.
The Council meetings are open to interested parent observers. The School Council is vital to the successful running of the school and welcomes your support.
Parents Group
Our Parents' Group meets monthly throughout the school year. In addition to supporting the school with fund raising activities they are a wonderful support for the children, staff and parents generally.
Activities: Mothers' Day/Fathers' Day Stall, Special Luncheons, Assistance with various school activities, Fundraising activities, Canteen and Uniforms.
Canteen – The Parents' Group and our volunteer helpers provide Canteen lunches on a Friday of each week. Orders should be written on a brown paper bag, with the child's name and grade marked clearly. Money should be placed securely in the bag. The canteen also offers over-the-counter sales on Mondays and Fridays at lunch time. Volunteers are always welcome and calls for helpers are published regularly in the weekly School Newsletter.
Click here to download the school Canteen Price List Canteen Price List

School Uniform – The uniform shop is also operated by the Parents' Group. Click here to download a Uniform Order Form Uniform Order Form
Attendance
Attendance at primary school is compulsory.  Children's attendances and absences are recorded daily and Government regulation requires that an explanation of absences be provided by parents.  You can telephone the school if your child is to be absent for one day or send a note along when the child returns.  However, we would like to hear directly from parents if a child is absent for a period of two or more days.
School Rules
The Student Code of Conduct contains the school rules and forms an essential part of our School Charter. Parents are encouraged to discuss with their children the key school rules and how they might apply to them in various situations.
The school has six key rules, they are:
Move and play safely.
Care for yourself, others and property.
Resolve problems calmly, sensibly and fairly.
Respect others through your speech and behaviour.
Learn as well as you can and allow others to do the same.
Always do as you are asked immediately.
Individual classrooms also establish a set of class rules at the beginning of each year.